Careers
There are about 220 people who graduate from Cambridge every year who have read Law. Almost all of them will be employed or undertaking further study after graduation.
What do our Law graduates do? About 75% will go on to qualify in the legal profession, either as solicitors or barristers. Most of these graduates start their training with the large specialized commercial law firms in London (and occasionally abroad, say in the US or Hong Kong), or with smaller legal practices around the country.
Roughly 10% of Cambridge Law graduates become barristers, often with the specialist sets of chambers in London, focusing on commercial law, administrative law, criminal law or family law. Some students leave Cambridge to onto further academic legal study, say an LLM in the US or in Europe, perhaps with a scholarship.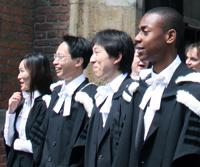 Alternatively, students may use their Law degree in a related sector. The civil service is popular, either in central government (such as the Home Office or Foreign Office) or in local government (such as working in planning or housing).
Employment at the EU has become increasingly available for students who can speak a foreign language. Some Law graduates work in the UN and non-governmental organizations. Paid employment with the third sector is attractive.
Charities and voluntary organizations, lobby groups and research institutes often employ Cambridge Law graduates. For example, the Chief Executive of Reprieve was a Law student at Cambridge.
You do not have to use your your Law degree directly. Having a Law degree does not bar a graduate from employment normally taken up by other arts and humanities degrees. So if you would like to be an accountant, a banker, a strategy consultant, journalist or teacher you would be following in the footsteps of many other Cambridge Law graduates.
A career in retail or management is also possible. As well, a few Law graduates have followed rather unusual paths: Stephen Mangan is a successful comedian. Some others have become singers, actors or jazz musicians. They probably find their contract law useful in negotiating deals. Even a career in politics is possible.
In conclusion, a Law degree from Cambridge will enable you to become a lawyer, or to enter a wide variety of other careers.
Professor Pippa Rogerson, Professor in Private International Law, and Master of Gonville & Caius College